Well the day has officially arrived. After 6 months of planning, and much discussion, tomorrow we leave for a six day jungle hike to Ciudad Perdida, the Lost City. Ever since I got my job in Colombia and we read about this hike in the guide book, we have been wanting to do it together and now we finally are!!
We meet at the office of our
tour company
tomorrow morning at 9 am, then from there they will take us by jeep to the trail head. Following our guide, we will then hike for three days through the Colombian jungle in order to reach the Lost City.
Here is how TurCol, or Turismo Colombiano, explains the trip:

Ciudad Perdida is a magnificent example of a pre-Colombian Tayrona settlement, located at the source of the river Buritaca it is situated at 1200 meters above sea level. At the end of the 1970s Colombian archaeologists rescued two hundred of the original terraces, streets and paths, a system of aqueducts and a sewage system from the stranglehold of the Jungle. This is the largest of the many pre-Colombian cities in the Sierra Nevada, remarkable for its spectacular scenery and striking landforms.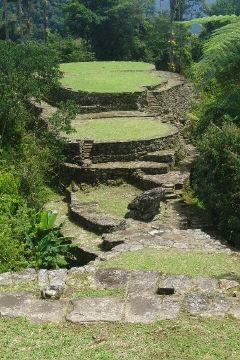 Here is their basic itinerary we anticipate following:

DAY 1 - SANTA MARTA- REGION OF EL MAMEY – FIRST CAMPSITE

We leave at 9 am from the City of Santa Marta for the Region of El Mamey in a jeep, on a route that lasts approximately 3 hours. From El Mamey, a small village of people originating from inland Colombia, we begin the long walk upwards until we reach our first campsite, prepared with hammocks, where we will spend the night and can refresh ourselves in some natural swimming pools.
DAY 2 - SECOND CAMPSITE - TURCOL CABINS
We wake early for a breakfast at 7 am then at 9 am we start again, beginning with a short stretch of path that descends down into a small valley formed by the river Buritaca where there are some indigenous constructions forming the small town of Mutanyi. We have 3 more hours of walking before we reach the cabin where we will spend the night, on arrival we can cool off in the natural pools formed by the Buritaca river.
DAY 3 - WALK TO THE CITY
We wake even earlier today for breakfast at 6:30 a.m. and at 7 am we begin to walk through sections of the indigenous reserve Kogui - Arsario and the natural park Sierra Nevada of Santa Marta, passing by several indigenous houses and some remnants of ancient roads built hundreds of years before by the inhabitants of the area. We cross the Buritaca river to arrive finally at CIUDAD PERDIDA (sacred site for the present inhabitants of the Sierra Nevada), during the journey we can pause for a cool off in the river as there are some good swimming spots along the way. This day's journey takes approximately 6 hours.
DAY 4- EXPLORATION OF THE LOST CITY
Sleep in! We have breakfast at 8 am after a deserved rest. At 9am we begin our adventure into the park, learning about the different ways the pre-Hispanic Tayronas adapted to their environment, we will also have an opportunity to see the ceremonial houses of the present day Tayronas and the vegetation that forms a unique backdrop to the prehistoric legacy. Along the route it is also possible to take a bath in the pool of youth, which according to the legend works wonderfully well. At the end of the tour, some notes about the archaeological sites of the mountain range are available to read, and a short informative chat about the site can be arranged with the guide.
DAY 5- BACK DOWN THE MOUNTAIN
Breakfast to 6.30 a.m. is necessary for a departure at 7 a.m. We need to take advantage of the morning hours so the journey is less arduous and also in response to the atmospheric conditions of the region as they are variable and can change quickly. At Mutanyi cabin we will have lunch and then continue until we arrive at the first campsite where soda and beer will be available.
DAY 6 - EL MAMEY-SANTA MARTA.
Our final breakfast is at 7 am and we leave the campsite at 8 a.m. We walk for approximately 3 hours, taking a rest for one hour at El Mamey where we meet the jeep, from there we will drive to the entrance of the park and rest for a while to have a snack, continuing to Santa Marta where we will arrive at approximately 4pm.
Allison and I are ready with our hiking shoes, backpacks, sleeping bags, extra strength bugspray, sunscreen, hiking pants, swimsuits, water purification pills, dry bags, snacks, and anything else we have deemed worthy enough to be carried on our backs for six days straight. We have started referring to our backpacks as our small 2 year old children because they weigh about the same and we have to take them with us wherever we go, even if sometimes we don't want to.
I could lie and say I am not nervous, but in the spirit of being honest and telling the truth on this blog, I'm probably about 50% really excited and 50% terrified about what we have gotten ourselves into. SIX DAYS IN THE FREAKING JUNGLE? Who are we kidding? We are from the Twin Cities for goodness sakes. We drive around in cars, sit on beaches, scrap ice off windows, go for leisurely bike rides, read books, etc. We don't go for 6 day jungle excursions just for kicks. Well, apparently now we do. :) Allison and I discussed it last night and I think we are both totally competent of doing the hike, and we know that. However, we also want to do it so we can sort of prove it to ourselves in a way.
Here's hoping we prove we can go into the jungle for 6 days, and come out alive...and still best friends. :) Until January 10th, ciao!