So...today I was at the gym, running, listening to today's edition of
ESPN Baseball Today
. Nothing out of the normal, since this is pretty much the definition of my standard Monday night. I have been listening to this podcast almost everyday of the baseball season since I moved to Colombia. There really isn't a better way to keep up on baseball news from around Major League Baseball short of reading every article on ESPN.com.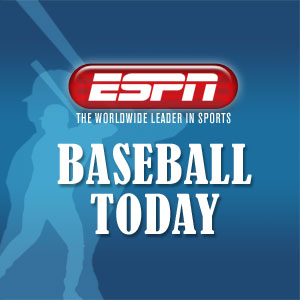 Therefore, I listen to this podcast, hosted by ESPN New York's
Seth Everett
and Senior Writer
Eric Karabell
. I pretty much listen to them banter back and forth about umpire accountability and the league leaders, and - up until recently - waiting with baited breath for any small mention of the underdogs from Minnesota. Sometimes they get in heated debates and every now and then I write into the show with comments, thoughts or questions.
Then this week on
Twitter
, the stats guy who guest stars on Wednesdays on the show,
Mark Simon
noticed I was a follower of the show and
commented
how I am probably the only one in Colombia. He
told me
to send in my email and he would get it on the show. So...I figured maybe if I was lucky they might read a snip-it of my email on Wednesday.
and they say "Next up from Kristin in Cali, Colombia" and I almost fall off the elliptical in my jump for joy. YESSSSSSSS. It was all I could do to contain myself from running over to Kelsi as she was mid-spin class and explaining how awesome this was. (I did however make her listen to it within 30 seconds of walking in the door)
My email was about the Twins postseason - should we be resting players now or aiming for the best record in baseball (i.e. home field advantage). They read the whole thing and made comments! Eric even said I made good points. And Seth commented on how I am friends with him on Twitter. :) My email definitely included some BS-ing....cause you have to be nice if you want your stuff to get read aloud....but overall I am pretty excited about the whole situation!!
If this whole teaching gig doesn't work out in the long run maybe I have a future in sports blogging. (I did win the NFL pool at work last week too!) Who knows?
Until then...I will just be loving the Twins' chances in the postseason and hoping
Joe Mauer
listens to ESPN and decides he must meet this well-informed fan from Minnesota.
What a fabulous Monday!!