After two weeks of planes, buses & bicycles, we were all feeling a bit worn down travel-wise. If we weren't quite ready to settle down a bit, then the final day of getting back to Buenos Aires, which included a 6 hour bus ride that started at 6 AM, seven hours in the Tucuman bus terminal, and then a 14 hour overnight bus definitely did us in.
Arriving early on December 31 our plan for the remaining week of our trip was to explore everything the capital city of Argentina has to offer. We based ourselves in the eclectic, artsy neighborhood of San Telmo - close to the city center, the Metro (called the Subte in BA), and the waterfront.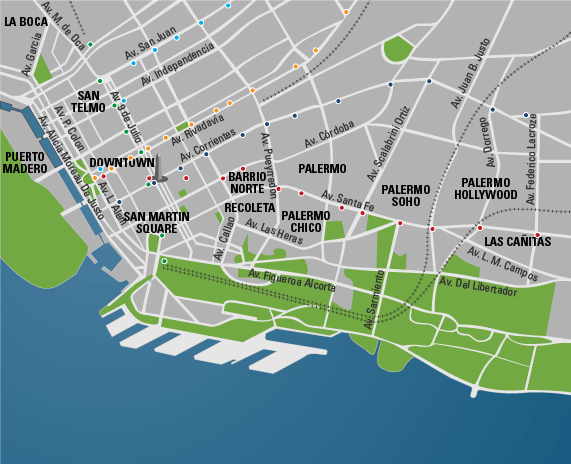 Map of the neighborhoods of Buenos Aires (north is to the right). San Telmo is located in the south of the city, next to downtown.
Stetson found us
this awesome house
where you rent rooms, just like a hostel, but the owner Tomas is super hands off and we pretty much had the place to ourselves. We bought groceries, settled in, did laundry and enjoyed actually unpacking our bags completely. I would definitely stay there if I am ever back in BA again!
Girls' room in our BA house.
Kitchen in the house.
Enjoying homemade dinner on New Years Eve. Cheers to 2012!
Our neighborhood, San Telmo, is best known for their colorful and celebratory street fair every Sunday. Thankfully, this fair still happened on News Years Day, just starting a bit later. The fair begins in the Plaza Dorrego, a main square in San Telmo home to the
Plaza Dorrego Bar
and a Starbucks, which we may have gone to more than one. A host of other establishments also have tables and chairs in the plaza for a dining experience full of ambiance. Also, most times when we walked by the plaza there was a couple dancing tango in the square. From the plaza, the fair extends north on Defensa Street, towards the Microcentro neighborhood.
Starting things off with Starbucks in Plaza Dorrego. I commented later in the trip that as Americans, if we had gone straight from the US to Argentina, I would have found our number of Starbucks trips lame. However, coming from land of no Starbucks, Colombia, we more than enjoyed this little slice of home away from home!
Sunday street fair - Feria San Telmo
The Sunday crowd enjoying drinks and live music outside the Plaza Dorrego Bar.
Some Sunday afternoon tango!
The crowd inside Plaza Dorrego Bar.
Tourists and locals alike wander the streets looking for that special antique or a unique souvenir.
Rob & Narissa check out some belts - Argentina is well known for their leather production...I guess all that steak does come from somewhere.
An eclectic mix of antiques and crafts for sale all along Defensa Street.
Saw this at the fair - want to own one!!
Cobblestone Defensa Street.
Along the artsy street fair, the streets themselves are literally covered in art - in the form of graffiti. While we didn't feel like forking over the pesos for an actual graffiti art tour (yes, they exist), we did lead ourselves on a morning walk through San Telmo to make some discoveries of our own. Below is just one example of the meticulous artwork that awaits you at every turn of the corner in San Telmo.
Overall, I absolutely loved this neighborhood, the street fair and the general feel of things. San Telmo was the perfect base for a weeks in Buenos Aires!