I decided to save the best for last in describing the unique and profound history of Buenos Aires. This town has seen a lot of change over the years, and no part of town has been more a witness to those changes than the neighborhood of Microcentro, or downtown. Home to the famous Plaza de Mayo, where mothers of those who "disappeared" during Argentina's Dirty War still march every Thursday, and the adjoining Casa Rosada AKA the White House of Argentina, this is the starting and ending point for much of the historical action in Buenos Aires.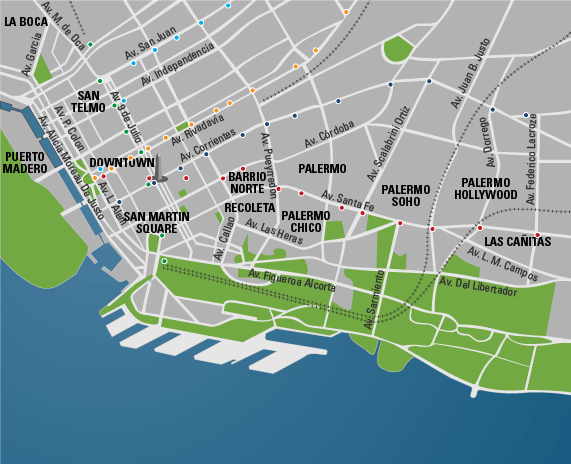 Plaza de Mayo
The expansive Plaza de Mayo spreads out from the Casa Rosada to the town council and Metropolitan Cathedral on the other end. From there the tree-lined Avenida de Mayo runs north until the busy Avenida de Julio and
Congreso
.
Casa Rosada
Statue of the guy who invented the Argentina flag.
We actually explored this neighborhood on a few different days because it was next to
our home base in San Telmo
and there was so much to see there. On one occasion we stopped for an afternoon snack at Cafe Tortoni, one of the most famous tango bars in the city and a delicious spot for afternoon coffee. Well worth the 30 minutes we waited in line to be seated!
Warm apple pie with ice cream & planning out the next adventure at Cafe Tortoni!
The inside of the Cafe Tortoni.
On a different day we stopped in at a museum that I had seen below the Casa Rosada. I had no idea what it was all about when I dragged Stetson and Rob there, but it just looked cool from the outside. After some initial confusion and realization that this building used to be a fort at the edge of the city, we were not disappointed in the many lessons on Argentina's history.
Perfecting the art of "blind museuming" - when you show up the museum because you read about it in the guide book, but don't actually know why you are there. Turns out, there is a lot to learn at the Casa Rosada museum! May 1810 - Buenos Aires declares their independence from Spain.
Juan & Eva Person - Juan is sort of the FDR of Argentina as he is their only president ever elected to three terms and he was known for fighting for the rights of workers.
Bet you didn't know that Argentina not only has a female president in Cristina Fernandez de Kirchner, but that she was just sworn in for a second term in December 2011. Who did she succeed to become president? Her husband, Nestor Kircher, who held office for one term, and has since passed away due to a heart attack. Thanks Casa de Rosada museum for the history lesson :)