Day one in Buenos Aires was New Years Eve day. After
getting settled in San Telmo
, we headed for a walk to stretch our bus weary legs. Our walk led us to the next neighborhood over, La Boca. Tourists are often warned against La Boca, saying that it is a sketchier neighborhood where you are not to wander from the main streets. Living in Colombia, we tend to take it pretty seriously when told to avoid something, so we tried to make our visit as safe as possible. We walked on the main streets from Parque Lezama, on the border of San Telmo and La Boca, and headed for the waterfront before making a right to end up at the famous Caminito. In addition to walking on main streets, Saturday was a great day to visit since there were tons of people around, especially in the area of Caminito.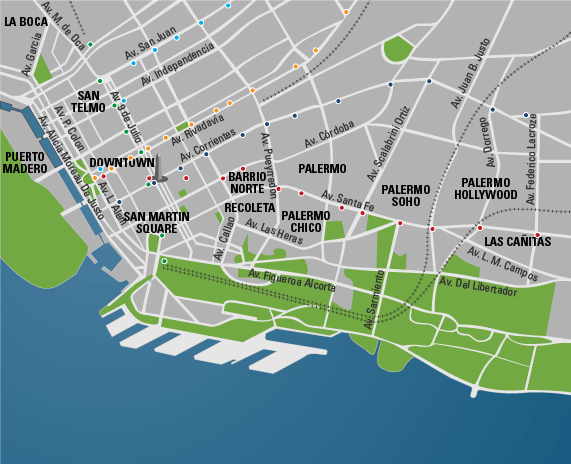 Map of Buenos Aires (north is to the right). La Boca is further south than the other neighborhoods, and located on the waterfront bordering San Telmo.
El Caminito is basically this two block stretch of colorful buildings that feels a bit touristy nowadays, but has legitimate roots. Way back when this (even then) poorer neighborhood was filled with people who wanted to take pride in their homes, so they painted their homes all sorts of bright, fun colors.
The start of the Caminito.
Soccer is never far away when you are in Latin America!
Laundry hangs between homes in colorful La Boca.
More homes & shops.
Even the paintings are vibrant!
This band of drummers wandered the tourists filled streets and filled the air with festive notes.
A few blocks from the Caminito is La Bombonera, the stadium where Buenos Aires' famous Boca Junior soccer team plays all of its home games. While we undoubtedly saved a ton of money by not attending a Boca Juniors soccer game (they are not in season), our trip to the outside of the stadium made me wish we had been inside. There is just something about the passion that people in Latin America have for soccer that is so catching!
Club Atletico Boca Juniors
A "Hollywood Walk of Fame" of sorts outside La Bombonera, the Boca Juniors stadium. This star is for
Diego Maradona
, Argentina's most famous soccer player (before the days of Messi) and arguably one of the best players to ever play the game. He is also a controversial sports hero, as he served a 15 month suspension for testing positive for cocaine in 1991, but is still highly regarded by the people of Argentina and known worldwide for
his "Hand of God" goal in the 1986 World Cup
.
While even a short visit made it evident why guidebooks and tourism agencies tend to warn people away from this neighborhood, I think it remains one of my favorite places we visited in Buenos Aires. There is something to be said for the character that comes from a place like this - that feeling of pride in where you live and what that place represents.