Monday was our first day in Buenos Aires that was not dedicated to celebrating New Years, so we headed for one of the main tourist things we wanted to do in the city - explore the historic Teatro El Colon (El Colon Theater) in the Congreso neighborhood. Located just across the 14 (FOURTEEN!) lane Avenida de Julio from downtown, this neighborhood is home to some of Buenos Aires' most famous architecture.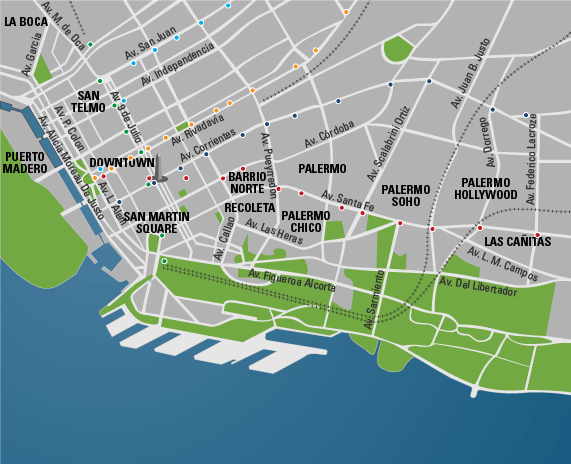 On the map you can see the busy Avenida de Julio with the obelisk in the center of it. Congreso is the neighborhood located above it on the map.
Starting things off with a coffee!
After our first metro experience in Buenos Aires (which was randomly free since no one was there to take our pesos), we arrived at the obelisk in the middle of Avendia de Julio. Built to commemorate the foundation of the city, this iconic BA statue and the surrounding Plaza de la Republica give this area a very "Times Square" feel. There are even giant billboards and a very large McDonald's for the full effect. The obelisk stands at 67.5 m and was completed in only 31 days time!
The obelisk also stands in the exact location of the demolished Church of St. Nicolas, where the Argentina flag was first hoisted in Buenos Aires in 1812
. Pretty cool history, huh?
My friends admiring the obelisk of BA.
From the obelisk, we headed over to the
Teatro Colon
, just two blocks away. This newly restored theater turned 100 years old in 2008 and is well known for excellent acoustics and 20th century architecture. We paid for the expensive, but well worth the pesos, $110 ARS ($25 USD) tour in English and learned lots of other details about this fine place.
Teatro Colon
Inside the theater. Red velvet chairs on the main floor are spread out in the shape of a horseshoe in front of the stage.
Finishing our walk around Congreso we saw other notable buildings, like the Palacio Baralo, which was created to illustrate Dante's Inferno, the Palacio de Aguas Corrientes, and the Congress building in the Plaza Congreso (pictured below).
From Congreso, we were headed north to see the ritzy neighborhoods of Recoleta and Palermo! Stay tuned...